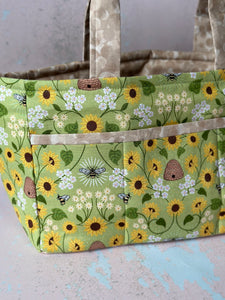 Our new project baskets are the perfect companion to carry your knitting! They feature two large inside pockets and 3 outside ones. They are made using premium quality cotton fabrics, with both interfacing and wadding to give them structure so they can stand up by themselves. The pockets are also wadded to protect any notions you store in them.
They can hold at least 8 skeins of yarn, so are the right size for holding a sweater project, and as many knitting tools as you'd like to keep close to hand for said project! There is also plenty of room to store a printed pattern or pattern book inside.

They are 33cm wide, 15cm deep and 21cm tall.