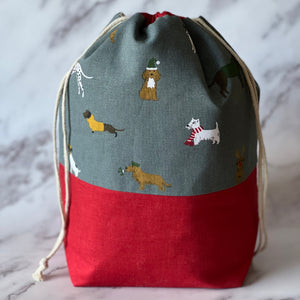 These are being made presently, and will be ready to dispatch by the 17th.

Drawstring bag perfect for holding your knitting projects! This large size is perfect for sweaters, large shawls or blankets. It can comfortably fit 6-8 100g skeins and can squeeze up to 10 in! Drawstring bags are perfect for knitting projects as there is no zip and your yarn can't snag on one!
Outer and inner fabrics are all 100% cotton and the wadding inside is 100% polyester.
Approximate Dimensions:
Width 14" (35cm)
Height 14" (35cm)
Depth 6" (15cm)